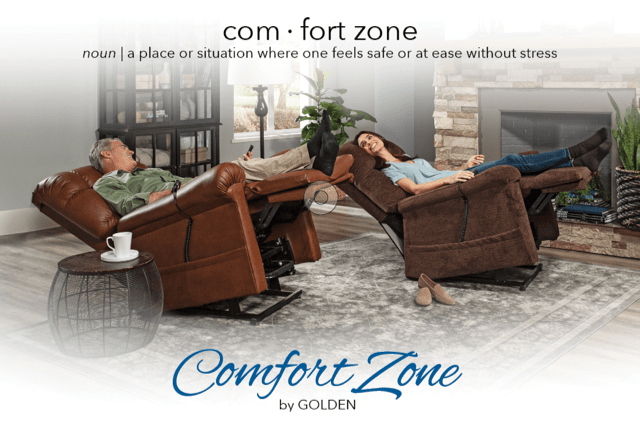 Written By: Jackie Caraballo and Aline Browning
An Ergonomic Chair Is A Must-Have At Any Age
If you're like most people, when you reach your 30s your body starts to lose its youthfulness and you begin to realize the importance of ergonomic support and good posture. I knew my posture wasn't the greatest, but after seeing a physical therapist for the first time for back pain, I realized just how important good posture and ergonomic furniture is to help relieve and prevent future aches and pains. 
Although you may not need major pain-relieving methods now, make sure you're treating your body right to avoid problems in the future. Think about how many hours of your life have been spent sitting.
O
ne in four American adults sit for more than eight hours a day, according to federal research from investigators at the Centers for Disease Control and Prevention (CDC).
Spine-Health reports that millions of people are sitting in badly designed chairs or in a position that can cause chronic back pain and undue suffering. "Ergonomics is about designing for our physiology. Whether you are buying an
ergonomic chair
to support your back or taking steps to improve your posture, knowing proper techniques and proper chair design will help you improve your back's health."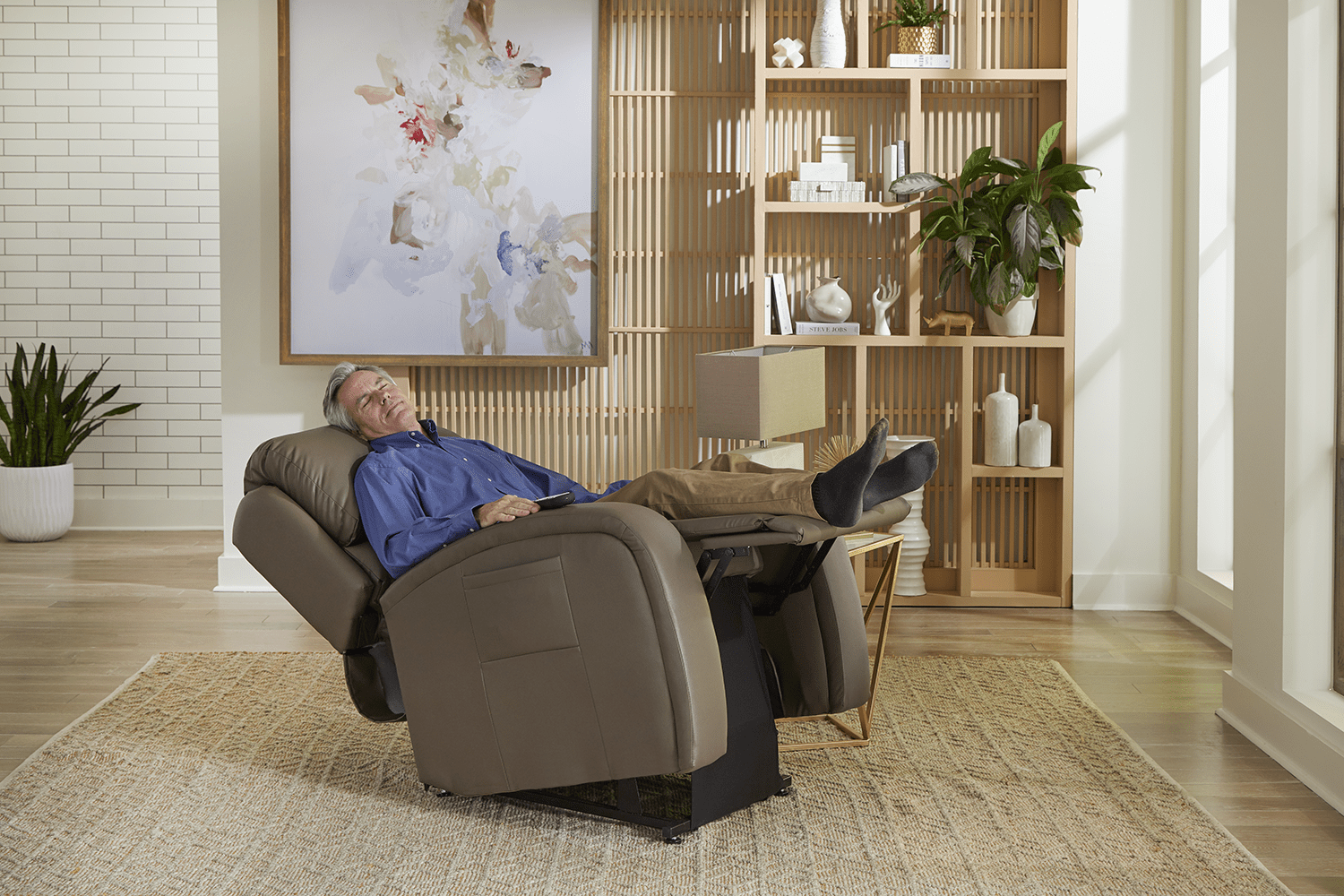 Golden Power Lift Recliners
feature up to five zones of ergonomic and patented wellness positioning to support and rejuvenate your whole body.
Each
Comfort Zone
can be adjusted independently to find your perfectly unique supportive position by using our exclusive
AutoDrive hand control
.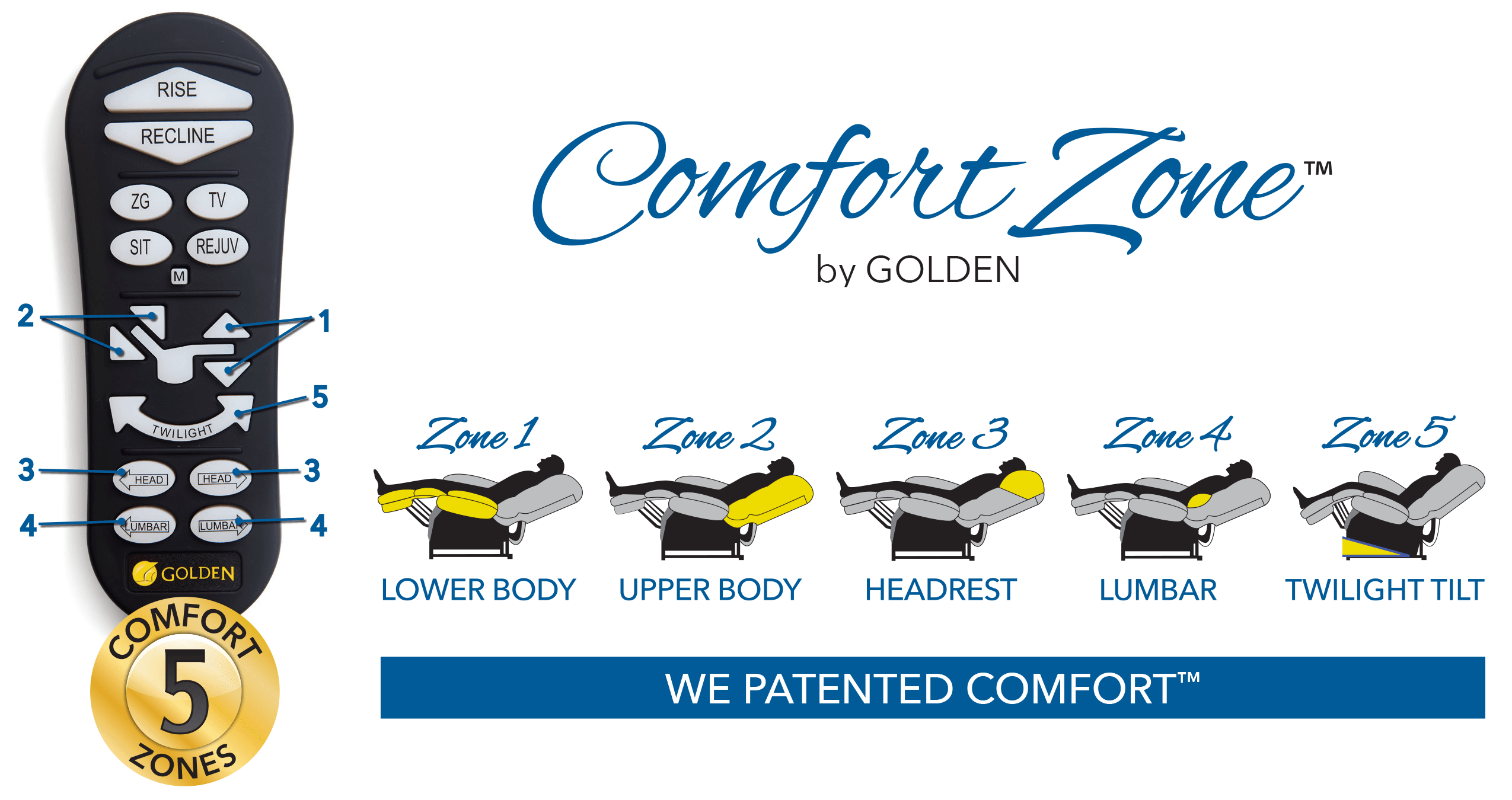 Zone Five
features our exclusive, patented
Twilight Technology
. This patented tilting motion provides a feeling of weightlessness beyond zero gravity and offers even more positioning options that aren't available with other recliners. Encourage circulation by relaxing with your legs elevated or promote the release of muscle tension and joint pain in a comforting neutral position. Twilight lift recliners offer the greatest array of rejuvenating positions to find the perfect angle for ultimate comfort and relaxation.
Zone Four
focuses on lumbar support. The custom and firm support of the adjustable lumbar can take pressure off your spine while giving your back muscles the chance to rest and rejuvenate. 
Zone Three
supports your head placement with an adjustable headrest, allowing for tension to be released from your neck and shoulders while encouraging the natural shape of your spine. 
Zone Two
supports the upper body.
The independent movement of the backrest allows stress and strain to be released from your upper body by offering adjustable support for your back and shoulders. 
Zone One
supports the lower body and features four-way motion in the seat, which helps provide relief to muscle and joint pain by placing your lower body in a supported ergonomic position. 
Don't procrastinate on your health! As you grow older, postural control is weakened by a flexed posture or a posture where the head protrudes forward. According to De Groot (2014), "A flexed posture (FP) is characterized by protrusion of the head and an increased thoracic kyphosis (TK), which may be caused by osteoporotic vertebral fractures (VFs). These impairments may affect motor function, and consequently, increase the risk of falling and fractures."
Posture affects so much more than our overall comfort. As we age, our posture plays a more governing role over our balance. Flexed posturing can be especially challenging for men because they have a higher center gravity so FP can exacerbate balance issues. A study by Kado (2007), supported this higher prevalence of falls in men concluding, "Moderate hyperkyphotic posture may signify an easily identifiable independent risk factor for injurious falls in older men, with the association being less pronounced in older women."
Being conscious about your posture now and providing proper support and alignment for your spine earlier on, may reduce the challenges associated with balance issues later on. An article by the American Posture Institute (2021) stated, "Postural distortion patterns do not develop overnight. This comes from our daily habits. Remaining unaware of your posture and allowing yourself to be in bad posture throughout your day causes compensation in your spine. These changes are seen through incorrect posture."
Choose all five Comfort Zones with our Golden power lift recliners with patented Twilight Technology or find your perfect-fitting chair in a range of sizes with our
Small To Tall Comforter Lift Chair Collection
. 
We recommend visiting a home medical equipment store or pharmacy near you using our
retailer locator
to sit in and try out each chair to find your perfect fit. All Golden chairs can be custom built in the color and style of your choosing, most made right here in the USA in Old Forge, Pennsylvania. Find the chair of your dreams—you deserve it! 
https://time.com/5459319/americans-sit-too-much/
https://www.spine-health.com/wellness/ergonomics